Archivierter Termin: am 03.02 um 19:00 Uhr.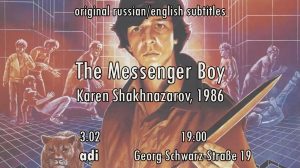 On Sunday, 3.02 you are invited to watch the film "Messenger Boy" directed by Karen Shakhnazarov as a part of "Russian winter: movie festival". It's about to show some films, which deal with more or less contemporary Russian reality and get a view of current status of different parts of everyday and social life and their conflicts.
Original Russian/English subtitles // Entree: free
Plot: Ivan Miroshnikov, а 17-year-old high school graduate, fails to enter university and gets fixed up with a job as a courier (delivery person) in a small publishing company. At the same time his parents get divorced. His ironic and careless attitude to his new miserable job covers the deep confusion of his soul. By pure accident he meets a girl named Katya, daughter of a famous professor. She is bored with her perfect family and ordinary prosperity, and they start dating. But her sudden interest gradually fades away because she doesn't have enough strength for deliberate protest and Ivan, truthfully, is not particularly interested in her. Soon she returns to her old environment, and he stays face-to-face with his near future.